The 'bulk one-off transfer' feature allows you to transfer money into multiple wallets in one go, so you can save time and effort.
In this article, you'll find step-by-step instructions for how to make a bulk one-off transfer in your Soldo Web App.
Note: If you're looking for instructions on how to automate periodic or low balance-triggered transfers in bulk, read this article as the process is different.
Step 1: Download the Excel template
To set up a bulk one-off transfer, you first need to log in to the Soldo Web App and download the Excel template.
Simply go to the 'Main wallets' or 'Company wallets' section, click 'Make a bulk transfer', and then click 'Download template (.xlsx)'.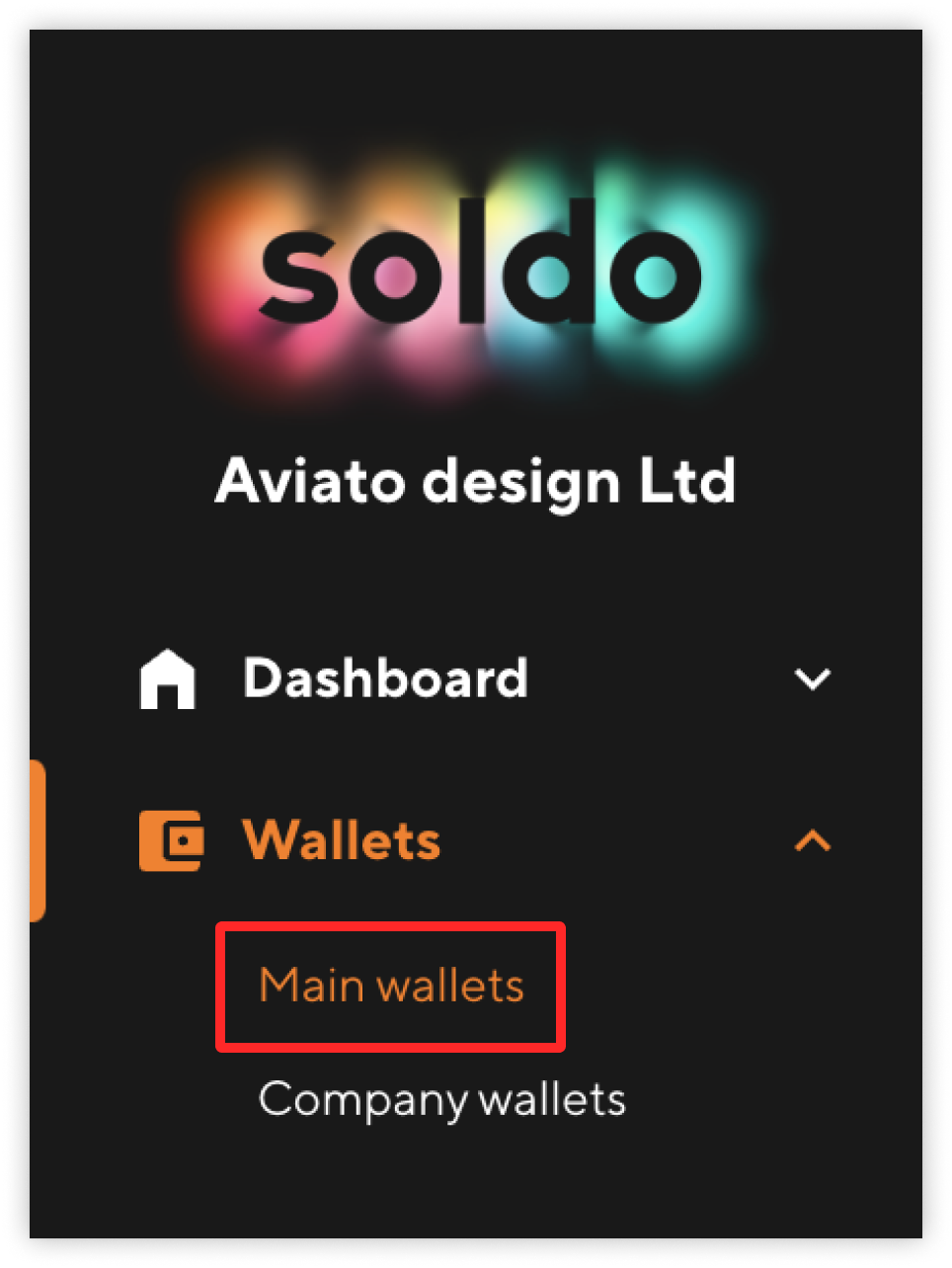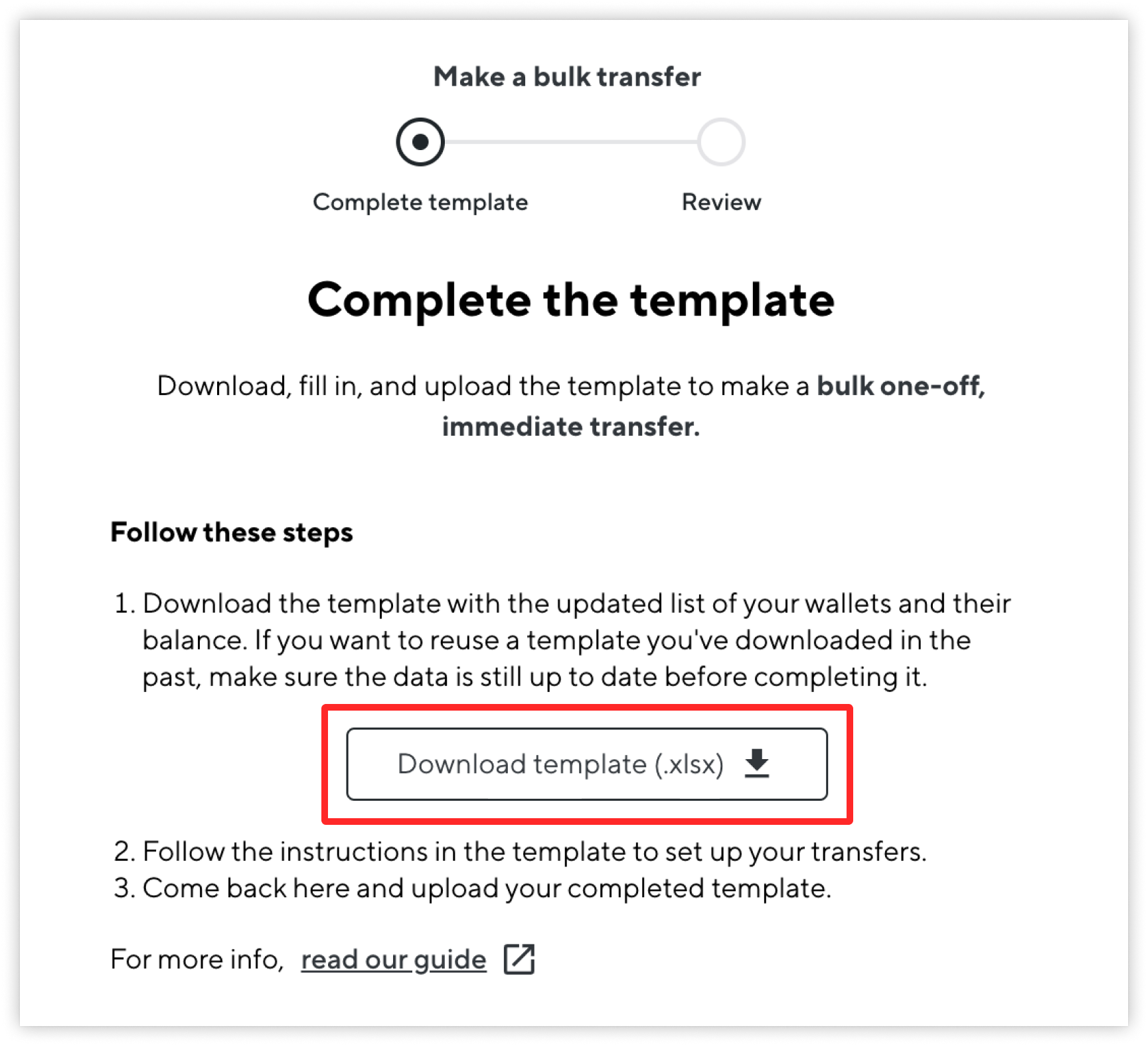 The template consists of three sheets:
Instructions: a glossary and step-by-step guide to completing the template.
Wallets: the list of all your wallets and their balance at the time of the download.
Transfers: where you need to insert all the transfers you want to make.
Step 2: Complete the 'Transfers' sheet
Take your time to carefully populate the 'Transfers' sheet with the correct information for each transfer you want to make. Ensure that you accurately complete all the columns.
If you need any clarification, refer to the 'Instructions' sheet, which contains all the essential information on how to complete the template effectively.
Remember, you can only make transfers between wallets with the same currency.
Step 3: Upload your completed Excel template
When you're finished populating the 'Transfers' sheet, return to the page where you downloaded the Excel template.
Upload your completed template in the designated upload area. You can drag and drop the file into the upload area or click 'Select from this device' to locate and upload the file from your computer.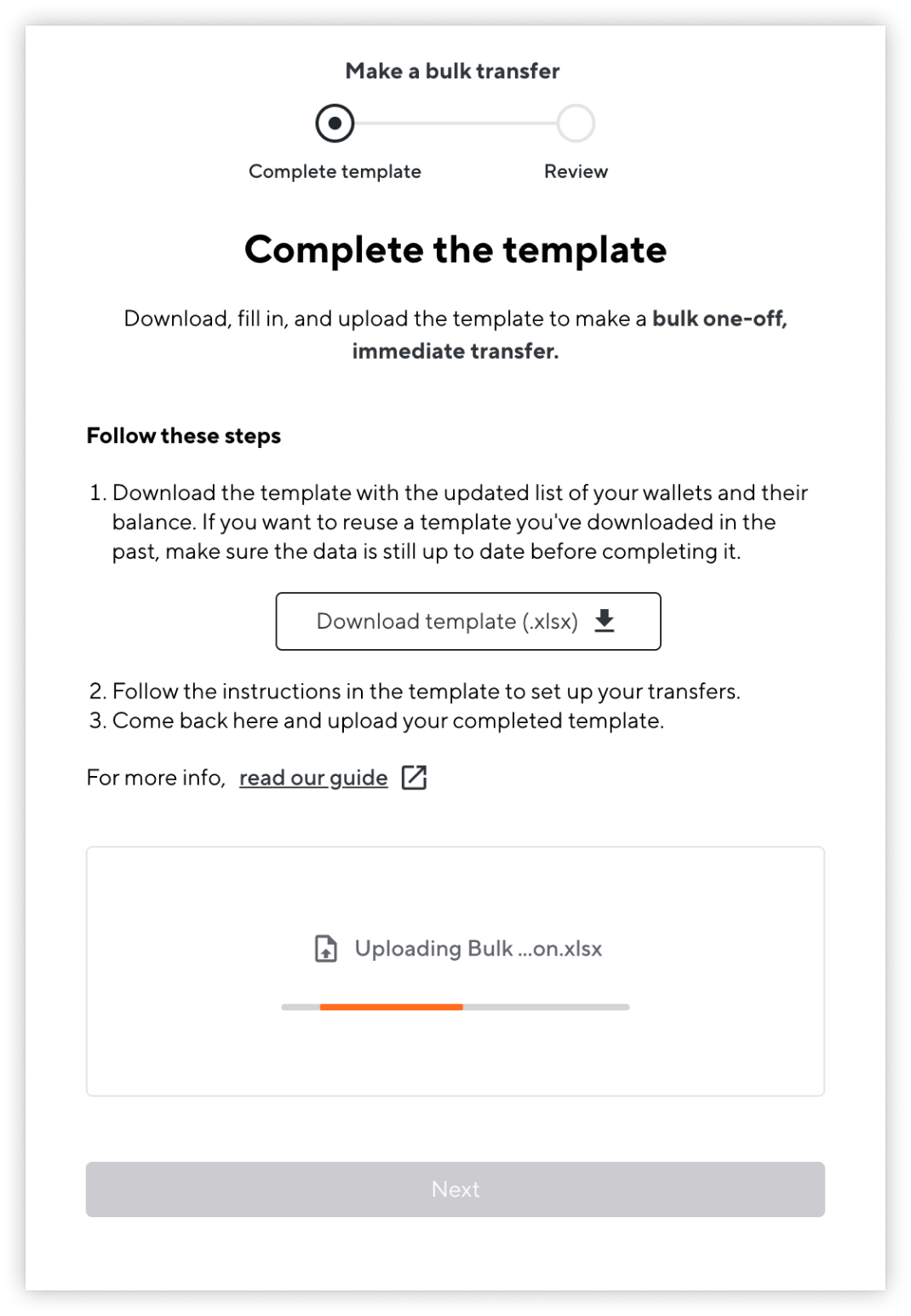 Once the template is uploaded, we'll complete a few checks. For example:
Have all the columns and cells been filled in correctly?
Are there are no more than 1000 transfers (or 1001 rows) in the same sheet?
Do your wallets have the money required to complete the transfers?
If any problems are detected, don't worry: our error messages will guide you to the exact location of the problems in the template, making it easy for you to fix them.
Tip: Save time on your next bulk one-off transfer by editing and re-uploading the same Excel template. There's no need to download a new template, unless you've created or deleted any wallets.
Step 4: Review and confirm your transfers
If your template passes all the checks, we'll show you a comprehensive summary of your bulk transfer. Take a moment to carefully review your transfer details. If you're happy with everything, proceed to confirm your transfers.
At that point, you'll see a message saying that we're processing your transfers. Stay on the page and you should see a message confirming the completion of your bulk transfer within a few seconds (the time may vary depending on how many transfers we need to process).
When this happens, it's good news: your bulk one-off transfer has been completed.
Step 5 (if necessary): Re-upload any failed transfers
If there's a problem with the bulk transfer, you'll see a message informing you that we couldn't process some of your transfers. If this happens, don't worry: we'll promptly send you an email listing the rows we couldn't complete.
Simply repeat steps 1 to 4 above for the transfers that have failed. Download a new Excel template and fill in the 'Transfers' sheet only with the rows that have failed.
Once done, upload the template, check you're happy with everything, and then confirm the transfers.
Now all your transfers should be completed.
Please note: One of the reasons a transfer might fail is because there isn't enough money in the wallet you've chosen as the funding source. If this happens, simply move or deposit the correct amount of money into the wallet and upload the template again