If you are a current Soldo customer:
You must prevent duplicate transactions being sent to financial periods used for formal reporting:
It is important that you ensure your financial period on Xero is closed for any formal reporting (e.g. statutory accounts, board reports etc.) done as this will prevent anyone posting into historic periods in Xero. You can do this by setting a lock date in Xero, which will prevent any tampering (including duplicate transactions exported to Xero by mistake) of closed financial periods.

You must import basic transaction data for transactions that predate the new version of the integration:
The integration with Xero which submits basic transaction data to the left-hand-side in Xero within Reconciliation was released on the 13th November. You should import your bank statements with a .csv extract prior to the date you set up the new version of the integration, if you want to reconcile the left-hand-side and right-hand-side under Reconciliation in Xero for transactions that predate the new version of the integration. 
You can extract a .csv by going into Reports > Transactions and pressing Export. 
You can also make your life even easier, by automatically reconciling transactions. Find out how, here. 
You must import transaction metadata for transactions that have not already been exported to Xero:
Ensure you have reconciled your accounts up to a specific point (e.g. 31 October 2018), based on your previous processes. You can then, using the Xero integration screen in Soldo, start integrating transactions from the next day e.g. 1 November 2018.
Please note, there might be transactions in the previous period that will show on Xero as "To Export". To ensure these are not double counted, you must mark them as "Mark as not to be exported" by going into Report, then Xero, and click on a transaction to open the full transaction data on the right-hand side. You will then be able to click on the "Export to Xero" button to select "Mark as not to be exported".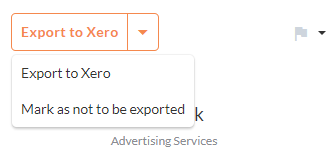 Make sure the currencies you use in Soldo are activated in Xero.
Ensure your Xero account has all the currencies activated to which you want to link your Soldo transactions. You will not be able to sync transaction within a currency that has not been activated within Xero. To check your currencies set up, log into Xero, go to Settings > Currencies and add currencies you require.