With Soldo, you can give employees more freedom over business spending, while maintaining control and visibility. This is done by issuing Soldo cards. Learn more about how to use Soldo cards in our video.
In this article, we'll cover the following topics:
Making a deposit
Before creating cards, you need to make a deposit into your Soldo account to cover the issuing cost (here's how to make a deposit). This will vary depending on the type of card you request. Plastic cards cost slightly more and take 5-7 working days to arrive. Virtual cards cost slightly less and can be activated straight away. Before making your first deposit, we recommend thinking about how much employees are likely to spend. You can withdraw your money from Soldo at any time.
Allocating cards to employees
Follow the steps below to create cards and allocate them to users. This will allow your employees to start spending.
Note: If you haven't created any users, you'll need to do this first in the Users section.
1. Under Cards, click 'Create card' to get started

2. Select 'Create a card for an existing user'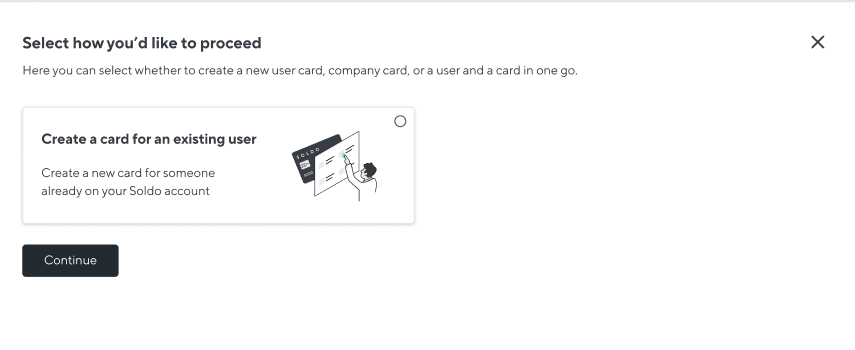 3. Select the employee from the list of users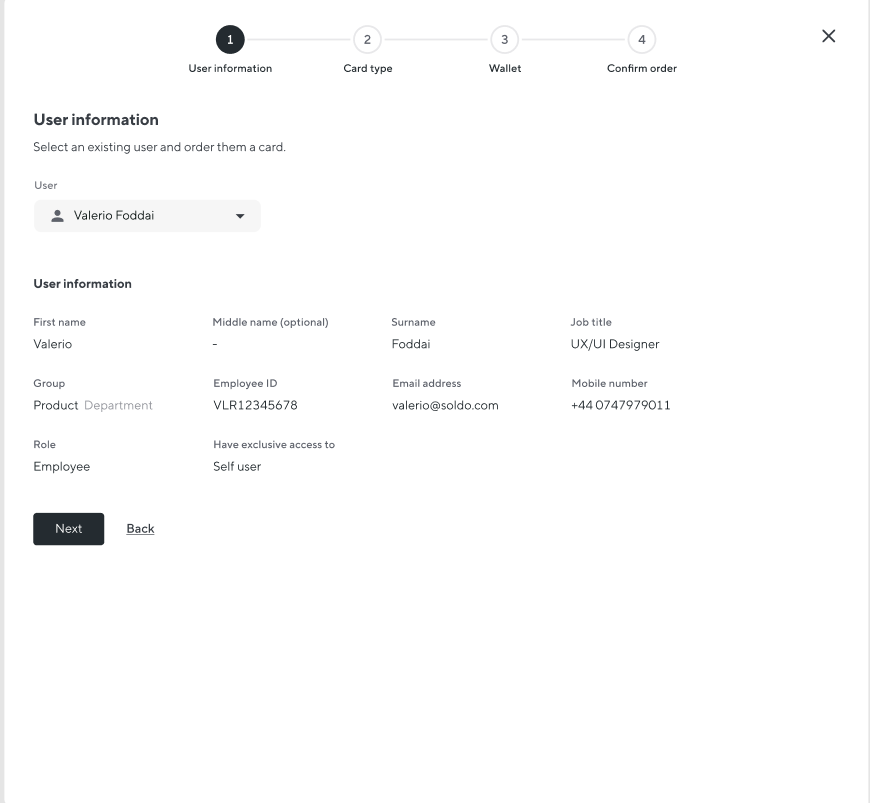 4. Select a virtual or plastic card
Virtual cards can be used for spending straight away. They can also be added to Apple or Google Pay. Plastic cards will require a delivery address to be entered and take 5-7 working days to arrive.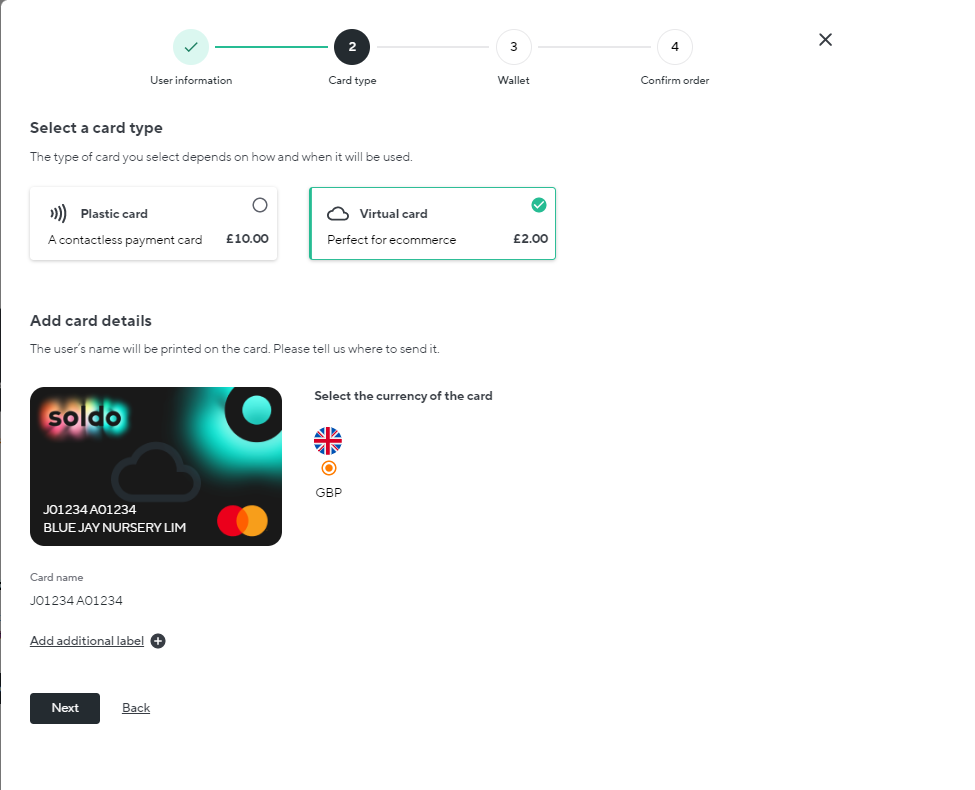 5. Link the card to a wallet
By linking cards to specified wallets, you have more control over company spending (not available in the 'Start' plan). Watch this video to learn more about how wallets work.
To link a card to a funding source, select a wallet from the list.

6. Review and confirm your card order
If you've ordered a virtual card, it will be available to use as soon as you confirm your order. To view the card details, use the Cards section.
If you've ordered a plastic card, it should arrive within 5-7 working days. When the card arrives, enter the CVV number from the back to activate it. Once activated, the card will be ready to use.
Maintaining control by setting spending limits and rules
With Soldo, you have complete control over spending within your organisation. You can set limits and rules for cards, including:
Spending limits (Daily/weekly/monthly)
Spending categories
Payment methods
To set up spending controls, go to the Cards section and select the relevant card. The options you have will depend on your Soldo plan.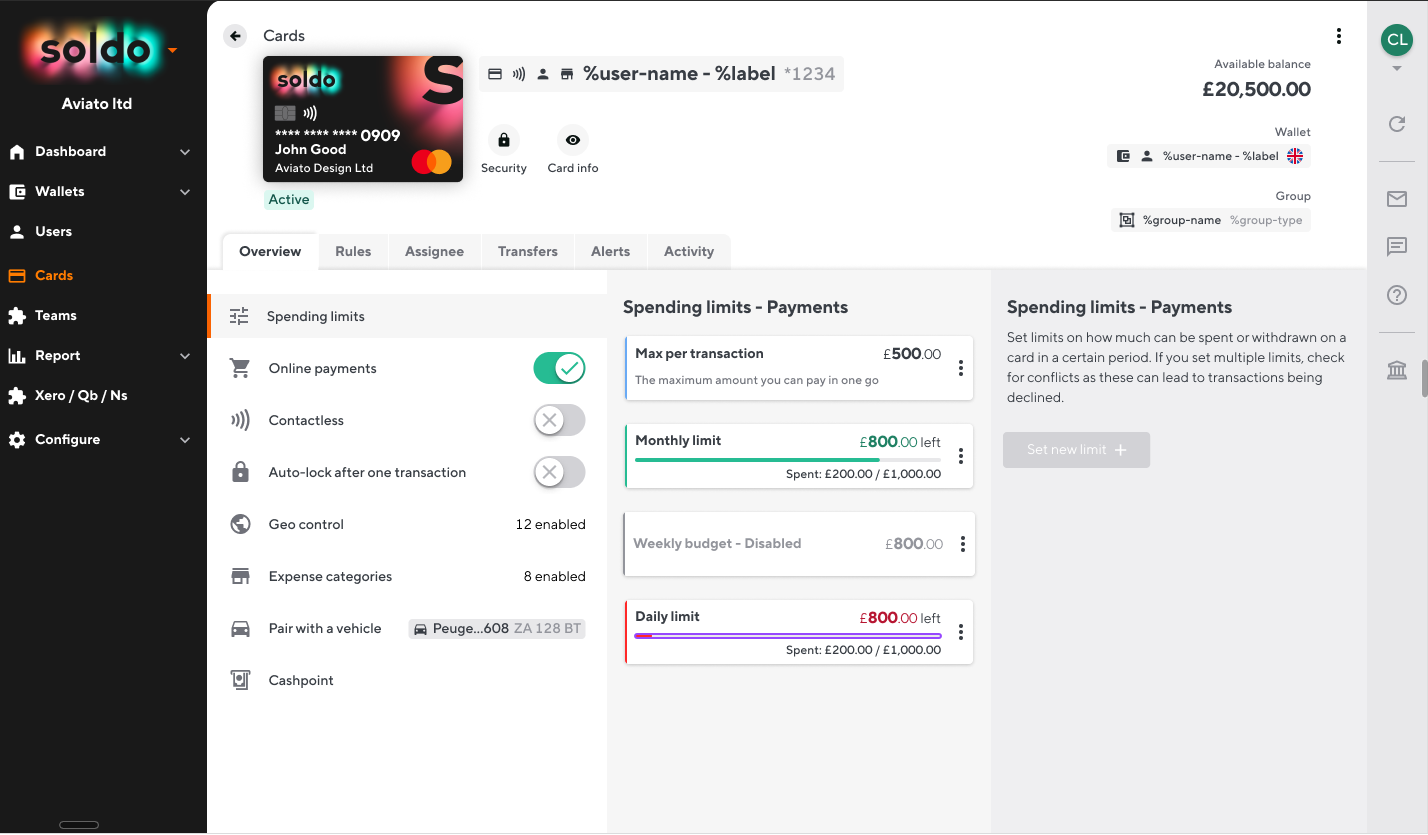 Transferring money
There must be funds in the relevant wallet for an employee to start spending on their card. If there aren't enough available funds, the transaction will be declined. Depending on the type of wallet associated with the card, you'll need to either make a deposit into the Main Wallet, or transfer funds from one wallet to another. To help reduce admin, our Pro and Premium Soldo plans let you set up automatic transfers (here's how).
Monitoring expenses in real-time
Every transaction is easily viewable under the Cards and Users sections. You can use these sections to see a detailed breakdown of spending for a specific card or employee. If you're looking for a particular transaction, you can also apply filters or search by merchant name.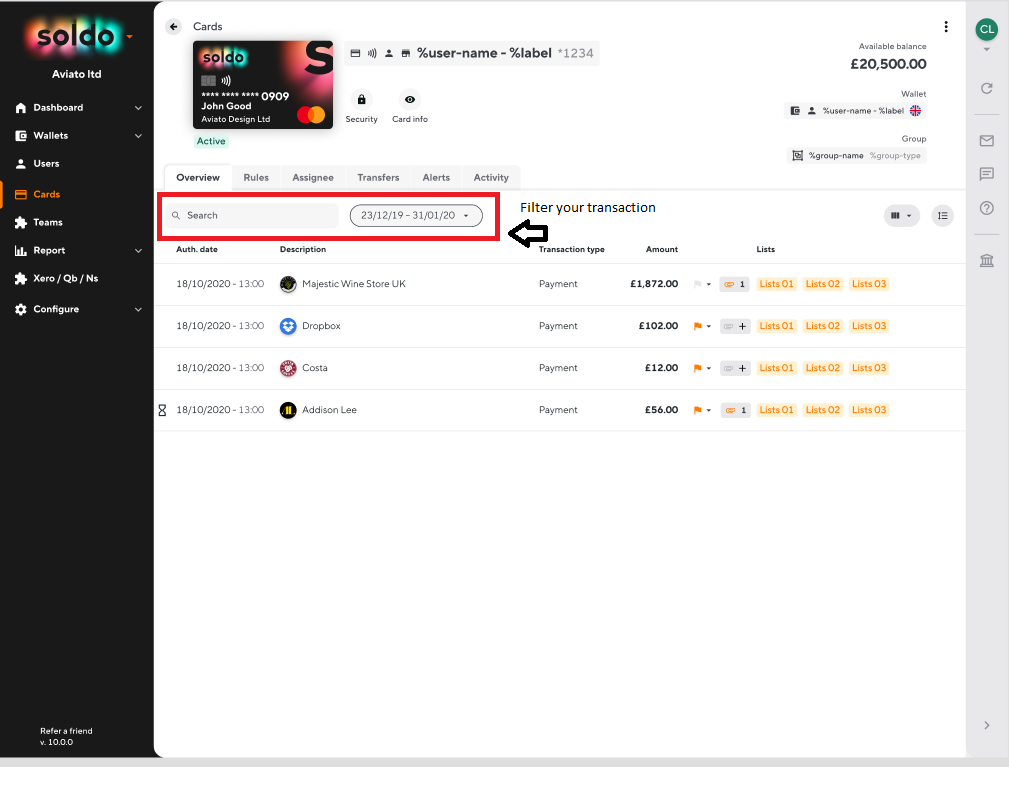 Sending expense-review reminders to employees
All spending done with Soldo cards can be set up to suit the accounting needs and policies of your organisation. As an Accountant on the Soldo platform, you can send automatic reminders to employees. To know more about how to review and report expenses and encourage employees to provide necessary information click here.
Exporting expense statements via file or accounting integrations
Soldo allows you to export all transaction information in common file formats such as CSV, PDF and XLSX. To find out which accounting integrations are available in your region, please check the Integrations section.