With Soldo you have more control over how company money is allocated to different users, projects, clients, and departments. Funds can be allocated in multiple ways. The following features are all available in our Pro and Premium Soldo plans:
User wallets
Company wallets
Reserved wallets
In this article, we'll cover:
Separating funds between multiple users (user wallets)
User wallets let you separate funds between different users. They're useful for controlling spending for each user by allocating them fixed budgets. Separating funds by user also allows for clearer reporting, letting you see exactly how, where and when each user has used company funds. Some examples of using user wallets include:
Allocating a fixed Travel & Entertainment expense allowance to employees on a daily/weekly/monthly basis
Allocating employees a fixed budget for daily/weekly/monthly spending
User wallets are created automatically for all users on our Pro and Premium plans.
Separating funds into company wallets
With company wallets, you can separate and set aside funds for different projects, clients, departments, and events. Company wallets are different to the main wallet, the default wallet where you store the money from your Soldo account if no other wallet has been created. Learn more about the differences between the main wallet and company wallets.
Once a company wallet has been created, you can create new cards that use the wallet as a funding source, or move and link existing ones.
Setting up a card to use funds from a company wallet ensures:
Greater spend control by ring-fencing funds
Delegated responsibility, with each dedicated user managing the budget for their respective wallet
Here's how to create a company wallet:
Go to Wallets, then Company wallets. Select 'Add company wallet'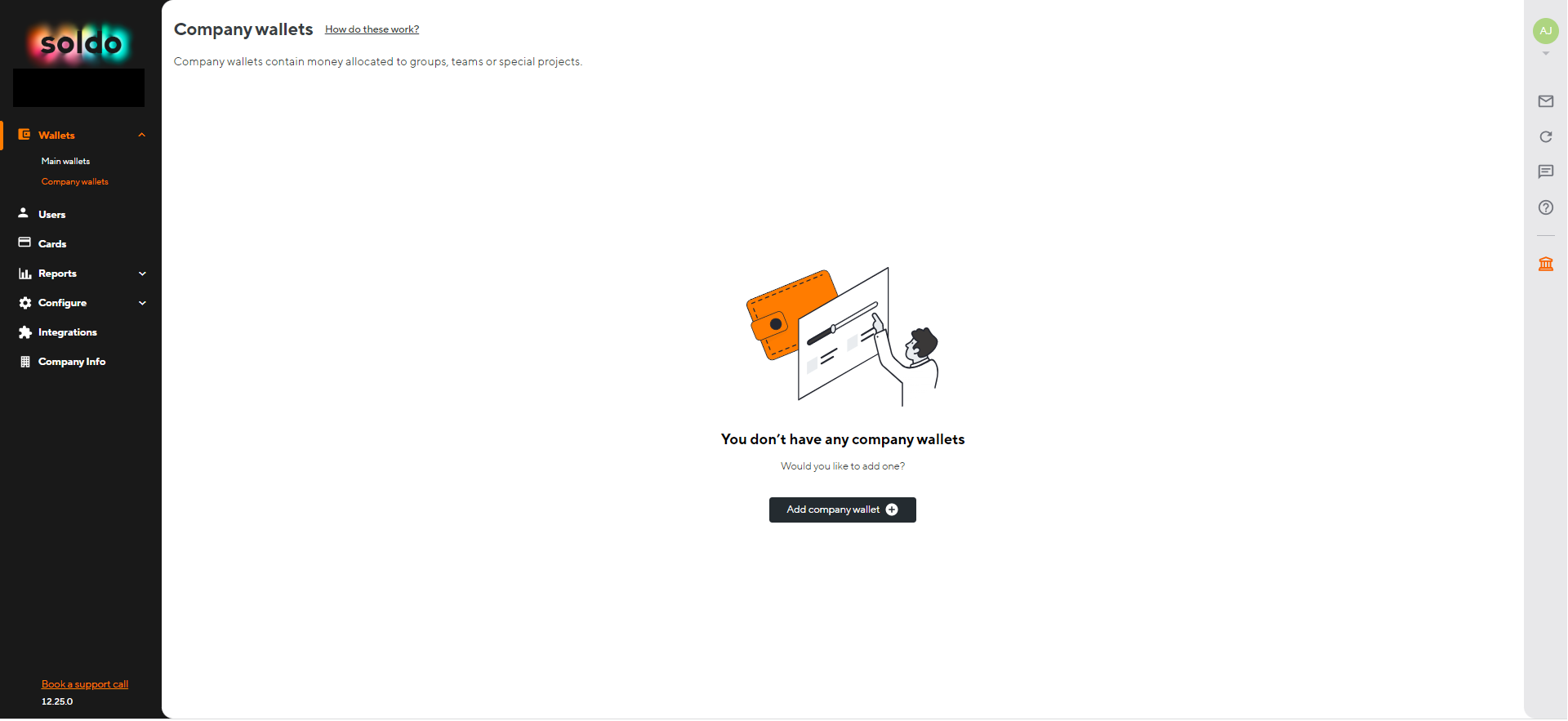 2. Select a currency for the new company wallet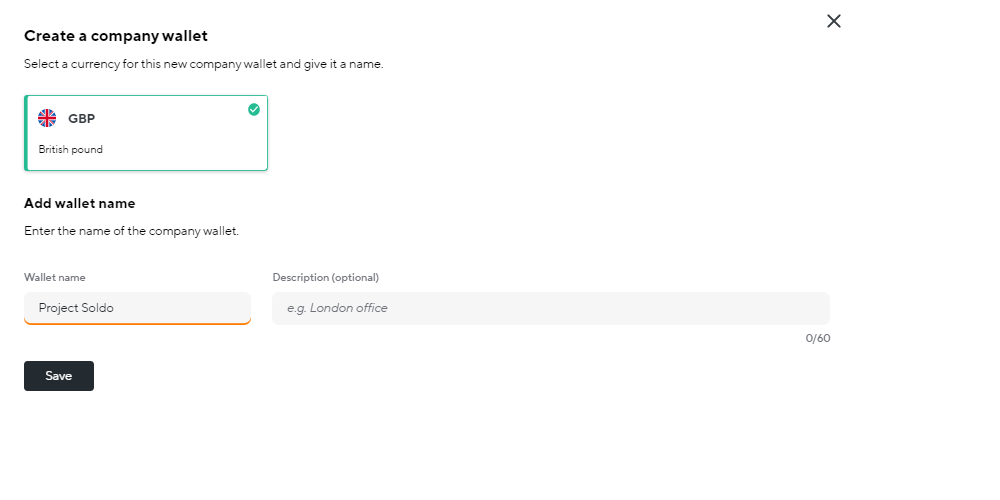 Once the new company wallet has been created, you can transfer funds to start using straight away.
Dedicating funds to a shared company card
While company wallets are useful for sharing dedicated funds between multiple users, you might also want to create a dedicated fund to be used by a single card. To do this, you'll need to create a company card, and link it to a reserved wallet. Here's how:
Use the Cards section to create a new company card
Set the wallet to 'Reserved wallet'
Assign the card to a user who will authorise spending for online transactions
Setting up automatic transfers
With Soldo, you can reduce manual work for finance teams, while keeping the same level of control over company spending. As well as manual transfers, both company wallets and reserved wallets support automatic transfers to make it easier to manage cash flow. There are two ways automatic transfers can be set up:
Periodically, where funds are transferred from the main wallet to company and reserved wallets at set intervals

By balance trigger, where funds are transferred to company and reserved wallets whenever the balance drops below a certain amount
As long as there is money in the main wallet, funds will be transferred without any intervention from the user once automatic transfer rules have been set up. If the balance of a particular wallet falls below a certain amount, you can also set up automatic alerts to prevent transactions from being declined.